Description
Golden Apples of the Sun…we're dating ourselves, but all Judy Collins fans know what I am talking about… When I saw this candle, that's what we thought of, the phrase that is, although the music is great too!
This beautiful candle is about the size of a small fruit, about 2 1/2″ across and tall, and is just as smooth as a crunchy apple. The pure cotton wick is the stem. What a perfect gift for a teacher, farmer, nature lover or just that special person.  For the price shown, you get two golden apples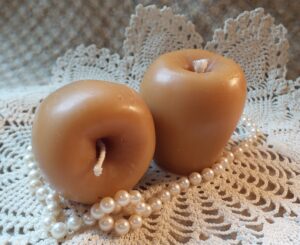 .
Like all my candles, this one is made of fragrant Oregon beeswax and fitted with an all-cotton wick for non-toxic light. Burn time about 30 hours.