Description
This unusual item is not a candle itself…but a holder.
What a great idea! This lovely angel head holder is made of Oregon beeswax which is dyed red with Eco-friendly dye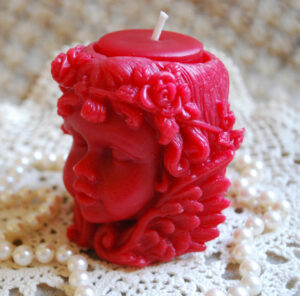 and is reusable! It measures about 3″ in diameter and 3″ tall, and comes with two tealights to get you started.
Simply replace the inner tealights as they burn down. The hole in the top of the head is large enough for a single tealight but not large enough for the holder. NOTE: This may cause the holder to melt.
Not into the dye? Look here for the same design in natural gold beeswax:
Each tealight lasts for at least 5 hours.
BURNING TIPS:
Burn tea light candles in one session. REMOVE WICK tab and any remaining wick while warm, not hot (to avoid burning yourself)and immediately replace with a new tealight.
Ideally it's best to burn beeswax tealight candles in one lighting, although in our tests one relighting will work. Repeatedly extinguishing and relighting tealights is not recommended.