Description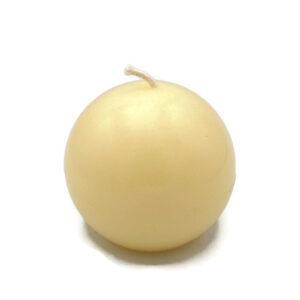 Round sphere candle of pure Oregon beeswax measures 3″ in diameter. Fitted with an all-cotton wick. Burns like a dream. Simple and elegant. Would be lovely on an elaborate dish or holder.
Made of pure domestically-sourced white beeswax and all-cotton wick. The bleaching method to obtain our White Beeswax is NOT chemical, but it is a PHYSICAL method. The natural beeswax is warmed up to 100 °C and melted. Decoloration earth and coal (carbon) are added then it is filtered through a < 5 micron filter for a few times to obtain the total elimination of the coal particles. The end result is a nice white product that is still pure and chemical-free.
Also available in natural beeswax.