Description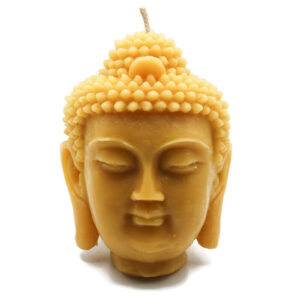 This awe-inspiring Buddha head candle is made of pure Beeswax from hardworking Oregon bees and cotton wick. Somewhat rustic finish.
This is a BIG candle, measuring 6 1/2″ tall by 4 1/2″ wide, and weighing 1 pound, 9 oz.
I have fitted him with a wick so the melt pool is approximately 2 1/2″ in diameter so he will NOT be destroyed as he burns. Eventually, as the flame descends, his face will be lit from within for truly inspirational energy for your home or altar. Highly recommended!   Burn time I estimate at 90-100 hours.
We do offer this in a smaller size.  To view the smaller one, click the Religious/Holiday Tab!